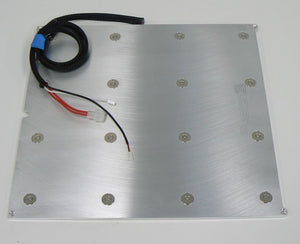 EDGE: Magnetic Tool Plate Bed Assembly
Magnetic tool plate bed assembly for EDGE.  Can be purchased to upgrade your EDGE from a standard tool plate to a magnetic one, or as a replacement part to replace your existing magnetic bed tool plate.
Use of the magnetic tool plate (vs standard) enables the use of flexible/removable print surfaces.
This item includes:
- Magnetic tool plate
- Bed heater attached to tool plate
- Wiring for heater power, heater sensor, bed probe sensor, wire sleeve
- Scrub plate assembly pre-installed