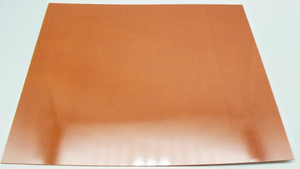 Garolite Print Surface, for EDGE Magnetic Bed
Garolite (aka FR4) is a fiberglass & resin material.  Some people prefer this surface for nylon filaments.  If you're experiencing adhesion issues with nylon with our standard print surfaces, this is an option to consider.
The Garolite panel must be laminated to one of our steel backing sheets before use.
The Garolite surface is for advanced users: Fusion3 is unable to provide support or help with prints using this print surface.